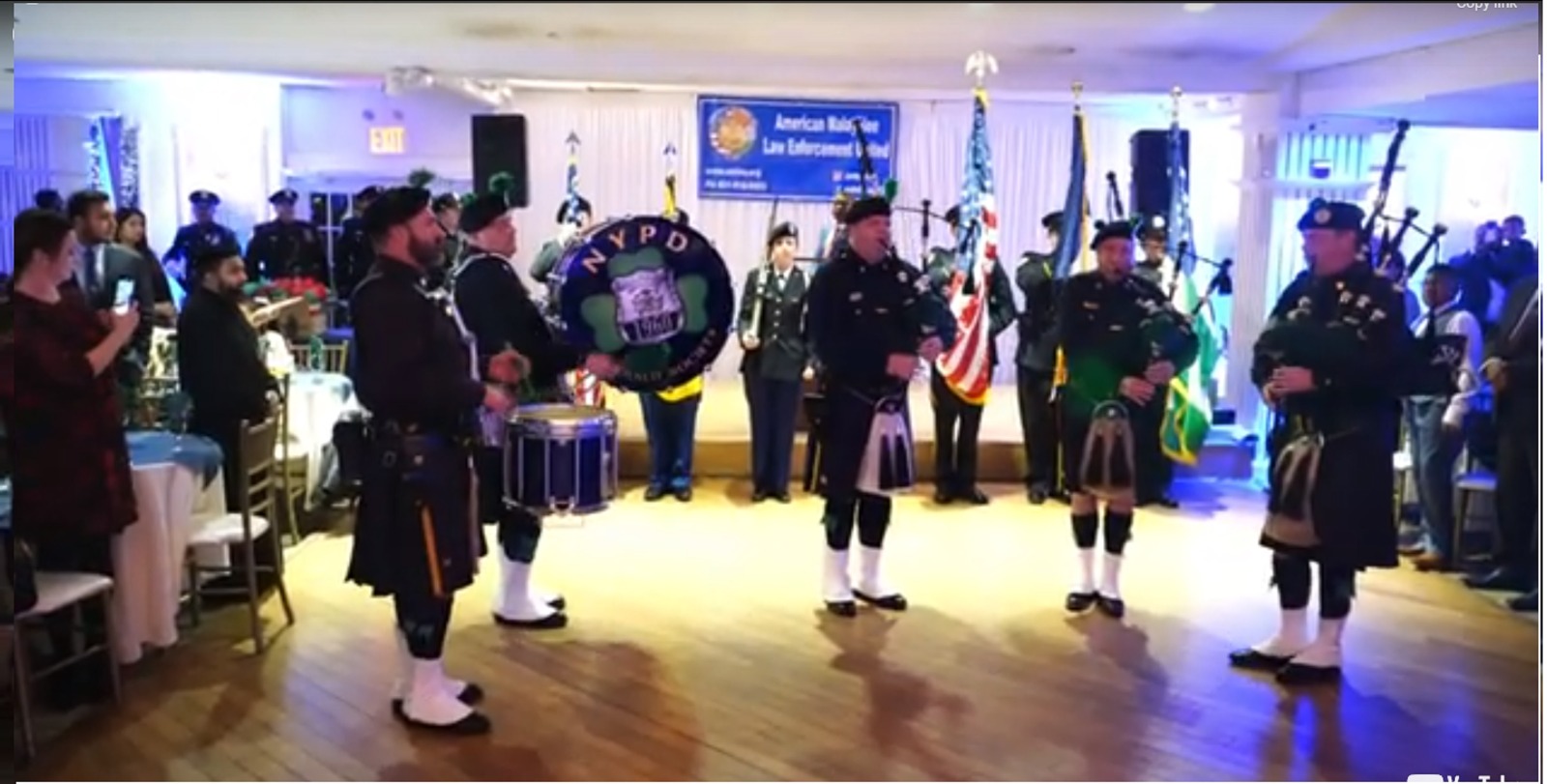 Written By, Thomas Joy, President of AMLEU, NewYork.
Press Release: AMLEU Holiday Party - Military and Law Enforcement Appreciation Night - Dec 9th, 2021, World's Fair Marina, Queens, NY
For Immediate Release:
American Malayalee Law Enforcement United (AMLEU.org)
Holiday Party - Military and Law Enforcement Appreciation Night
Dec 9th, 2021, World's Fair Marina, Queens, New York
American Malayalee Law Enforcement United (AMLEU) celebrated with a night of fun, remembrance and honor to end their year of charity and community service. The keynote speaker was Malayalee American Jophiel "Jojo" Philips, Major, US Air Force. Major Philips is a veteran of the Afghanistan war and a recipient of the Purple Heart for being wounded in battle. Major Philips also received a Bronze Star and a Combat Action Badge during his combat service. Major Philips is the only known Malayalee American to be wounded in battle. AMLEU provided an Honorary membership to Major Philips within the Society. Only two other Honorary memberships have been provided in the Society so far, to Police Officer John Abraham Jr. of Teaneck Police Department, New Jersey who died in the line of duty and to hero Malayalee American Tobin Madathil, a subway train operator in New York City who stopped the train and jumped onto the electrified tracks to save an Asian American who was pushed onto the tracks in an apparent hate crime incident.
AMLEU honored Nasir Abassi, Captain, Fort Bend County Sheriff's Office, Texas. Captain Abassi is the highest ranking South Asian American in any Sheriff's department in the country. The Honorable Sterley Stanley, Assemblyman, New Jersey attended the event and honored several attendees with citations for their service, community work and charitable activities. Assemblyman Stanley is among the few elected officials of the Malayalee American community, and a few others being New York State Senator Kevin Thomas and Mayor Robin Elackatt of Missouri City, Texas. AMLEU Chaplain Rev. Father Denis Mathai provided the invocation for the event. The grand sponsor of the event was EZZ Mortgage headed by Indian American Gaurav Aurora. A moment of silence was observed and "Taps" was played for fallen military and law enforcement officers, especially remembering fallen Malayalee American Police Officer John Abraham Jr. of the Teaneck Police Department in New Jersey who died on duty in 2010 and Indian Army General Bipin Rawat who died recently in a helicopter crash.
AMLEU President Thomas Joy (Thampan) addressed the attendees and highlighted the work of the Society so far and his vision for the future. Thampan also provided various recognitions, gifts and awards for some of the attendees and honorees. Among the gifts was an American flag flown at the World Trade Center. The flag was given to the family of NYPD Traffic Agent Mathew Thannickal. Mathew was a Malayalee American who worked at the World Trade Center following the 9/11 terrorist attacks. Mathew died earlier this year from illness contracted by working in the toxic fumes of the rubble from the destroyed World Trade Center. Thampan highlighted the fact that this year was a great year for Malayalee Americans in law enforcement. For the first time we have a Malayalee American Police Chief, Mike Kuruvilla of Brookfield Police Department, Illinois. NYPD for the first time have two South Asian American Deputy Inspectors in their ranks, both from the Malayalee American community, Liju Thotam and Shibu Madhu. A trail blazer in the Malayalee American law enforcement community, Captain Stanely George, NYPD, retired earlier this year. Thampan emphasized that the South Asian American community must have a one-star (Deputy Chief) in the NYPD within the next 4 years of the newly elected New York City Mayor Eric Adam's administration.
Several trail blazers of the Malayalee American law enforcement community attended the event. The newly promoted Deputy Inspectors in the NYPD, Liju Thotam and Shibu Madhu. The very first Malayalee American law enforcement officers in the US, retired NYPD Sergeant Tom Antony and current NYPD Sergeant John Rajan, who started their career in 1990. The first Malayalee American law enforcement officer in the Chicago Police Department, Retired Sergeant Tomi Methipara. The very first female Malayalee American law enforcement officer, Detective Binu Pilai-Abdul of the NYPD. The first female Malayalee American law enforcement officer in the federal government, Neena Philips, Customs and Border Protection Officer working at JFK airport, New York. The first female Malayalee American Correction Officer, Ruby Koshy, New York City Correction Department. Many other guests attended the event from as far away as Texas, Chicago, Missouri, Washington DC, Maryland, Philadelphia and New Jersey.
The holiday party boasted many entertainments for the guests. A brass quintet band performed during the cocktail hour. The formal event was marked by the NYPD Emerald Society Pipe Band, US Army and NYPD Color Guard, an NYPD National Anthem performer and a "Taps" trumpet player. A trio of Moko jumbie dancers on stilts and a trio of belly dancers kept the guests mesmerized. Malayalee American DJ, DJ Chacko kept the guests dancing on the dance floor. The guests had their pictures taken by a professional photographer on the "step and repeat" photo wall. Many guests participated in the gift raffles that included a giant flat screen TV, a brand new X-Box and an assortment of other gifts. The catering hall provided over 20 items for dinner along with an open premium bar.
AMLEU raised close to $70,000 this year for charity work, community projects, community engagements, COVID-19 relief efforts, college scholarships and other philanthropic efforts. The money came from sponsors, donors, businesses, individuals and AMLEU members. The money was spent in the US and in Kerala. AMLEU worked with a local charity group called "Mazhavillu '' from Punaloor, Kerala for COVID-19 relief efforts and also donated money to Kerala Chief Minister's Disaster Relief Fund. Several students were given scholarships for college. AMLEU assisted families when they had a missing person, provided advice and support on law enforcement issues, attended community meetings, assisted the community during incidents of hate crimes, and assisted in organizing the "Stop Asian Hate" rally on Long Island. During an incident where a South Asian community mosque was vandalized, AMLEU raised money to repair the damages and organized a food drive for the needy from the mosque to show support and solidarity. AMLEU has advocated for and assisted with recruitment into the law enforcement and military career fields from minority communities. AMLEU has provided assistance to its members during family and job related emergencies. Due to the work of AMLEU, many of its members have benefitted from career opportunities, assignments and promotions within their individual departments.
AMLEU plans to have another successful year in 2022 with more charity works, community engagements, community projects, and other philanthropic efforts.
AMLEU is a national non-profit charity organization made up of Malayalee American law enforcement officers. The Society has about 130 members from the federal, state, county, city and village law enforcement agencies from across the country. More than 40 departments are represented within the organization. Within the membership, there are Police Chiefs, Deputy Inspectors, Captains, Lieutenants, Sergeants and Detectives. There are many members who are also military veterans, some with combat service.
The Society was founded in 2020 with the mission to serve as a law enforcement fraternal organization for the benefit of our membership. AMLEU aims to be a conduit between law enforcement and the community it serves, primarily the Malayalee American community. AMLEU encourages Malayalee Americans to consider a career of service to the nation and their community by serving in the Armed Forces of the United States and in law enforcement. AMLEU would like to inculcate and preserve in its members an understanding and the rightful pride of Malayalam language, Malayalee ancestry, culture, customs and cuisine.
The leadership of AMLEU is as follows:
President - Thomas Joy (Thampan) - Police Officer, Suffolk County Police Department, Long Island, New York
Vice President - Shibu Philipose - Captain, Maryland-National Capital Park Police, Maryland
Secretary - Nidhin Abraham - Lieutenant, NYPD, New York
Treasurer - Noble Varghese - Sergeant, NY/NJ Port Authority Police Department
Sergeant-At-Arms - Oommen Sleeba - Sergeant, Chicago Police Department, Illinois
The Society has Trustees from various departments around the country like the NYPD, FBI, NY City Corrections Department, Philadelphia Police Department and Sugarland Police Department, Texas, a Social Media Manager, a General Counsel and a Chaplain. The AMLEU Chaplain is the Reverend Father Dennis Mathai, Malankara Orthodox Syrian Church.
All donations to AMLEU are tax deductible. For membership, donations or sponsorships please visit amleu.org
Thomas Joy
President, AMLEU
Ph: 914 473 0206
Email: MalluLEO2020@gmail.com
amleu.org
Picture Courtesy : The Visualized.com